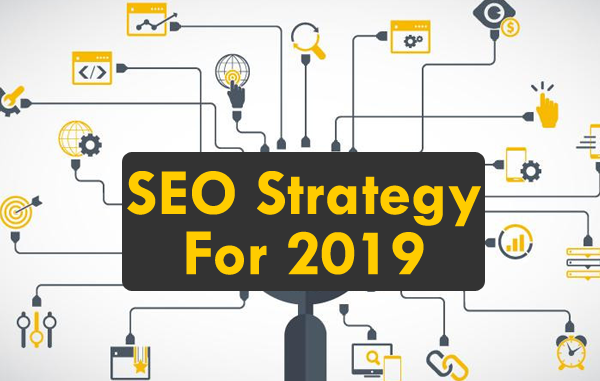 The year is changed now so now its time to change or implement new SEO strategy for 2019. In this blog we are going to share SEO best practices for 2019 which will help you to rank your site better in search results. Without any further ado let's see:
We all know that SEO classified into two parts:
1. On page optimization:- On page, optimization is all those things or practices which we implement in our Website pages or within our websites in codes.
2. Off Page optimization:- Off-Page optimization is all those practices which we do externally to drive traffic or to get social signals from other resources.
To rank better in SERPs On page and Off Page both playing a crucial role. Therefore let's see best techniques or practices which we can implement in our SEO strategy 2019.
On Page optimization best practices for 2019
1. Title tag:- Title tag is one of the most important factors of on-page optimization. The title must contain the targeted keyword. Google's display titles max out (currently) at 600 pixels which means titles should be under 60 to 64 characters for a better view in search engines.
2. Meta Description:- Meta description is another important part of on-page optimization. It should contain the targeted keyword as early as possible in the sentence and should follow the title keyword. You can use synonyms of your keyword as well. Limit your meta description under 158 characters.
3. Alt tag:- image's HTML tag:- Fill your Image alt tag name by targeted keyword
4. H1 & H2 Tag:- Put your targeted keywords in H1 & H2 tags
6. Breadcrumb:- Breadcrumbs provide better navigation within the web page. Using breadcrumbs is one of the best practices of site-architecture, which help user to know where they are in the site and search engine too.
7. Use your keyword in the first paragraph of your post:- Always put your targeted keyword in first paragraph or within 100 words of the content in the web-page.
8. Content Size:- As the proven factor "Content is king" & it is going to be true for 2019 too. The more in-depth, the better for ranking. Build your content around 2000 words.
9. Interlinking:- Interlinking help your user to browse related pages from one place and it also helps Google bots to crawl your pages within site.
10. Broken links:- Always look after broken links and fix it in your websites.
11. Social sharing buttons:- Put social sharing buttons of popular social networks in your web pages. So that a user can easily share it with their groups or community.
12. Page loading time:- This is one of the most important factor. Always keep your site and pages loading time below 3 seconds.
13. Mobile-friendly:- Nowadays more than half of all searches are now done on smartphones or tablets. This is the reason to meet this user need you must optimize your website mobile-friendly.
14. Robots.txt:- Robot.txt is a file which helps search engine crawlers to identify which pages to crawl and which pages not to crawl. It helps to save site owner for duplicate content penalty from search engines. Read more about Robots.txt
15. XML sitemap:- XML Sitemap is all about to list all important pages of your website at one place, which helps search engine crawlers find them and indexed quickly and correctly. Create XML sitemap with the help of xmlsitemapgenerator.org , xml-sitemaps.com easily.
OFF Page optimization best practices for 2019
1. Google maps/Google My Business:- Use this feature wisely, it can help you immensely in your business if you have on location business. Put your business information, name, address, and phone correctly. This feature can significantly increase your visibility and targeted clicks to your website.
2. Google Reviews:- Whenever we are looking for any services, we are looking up to reviews to find how the service provider is. In the same google also takes reviews about businesses seriously. Therefore, always try to provide quality services to your customers and get genuine reviews from them.
3. Local Listing:- Local listings play a significant role in SEO strategy. Yelp, Foursquare, and Yellow Pages are few names where you can list your business information and web address to get traffic from local buyers.
4. Social Bookmarking:- Social bookmarking is way to save your useful websites online at one place and whenever you want you can browse it without searching on search engines. Its continuously playing an important role in SEO best practices and it will be an important factor in 2019 too.
5. Image Submission:- Use image submission in your SEO methods in 2019. You submit images in your website pages and you can submit it to various popular sites like Tumblr, Twitter, Flickr and Instagram etc. While submitting do not forget to look after alt text, file format, and description of the image.
6. Video Submission:- Add Video Submission in your SEO  activities list in 2019. A high-quality video is the best way to attract your audience and give them the idea about your services/ products. YouTube, Myspace, Flickr, Dailymotion, Vimeo are few names where you can publish your videos.
7. Blogging:- Use blogging this year too in your SEO plans. Post your fresh content/write-ups/new services on a regular basis so that users keep visiting your site. It helps you to build authority in your subject and backlinks as well.  Blogger, Medium, Weebly, WordPress, Hubpages are few names where you do your blog submission in 2019. Read more about blog submission
8. Classified Submission:- Classified submission is one of the ways through which you can promote your product and services online which helps in ranking as well. OLX, quickrr, locanto, sulekha are few names where you can put your classified submissions.
9. PPT Submission:- PPT submission can help you to reach your audiences easily. Create quality and helpful content in your subject, make a PPT or PDF and submit it to sites like slideshare, scribd, 4shared and various others.
10. Question and Answers:- Nowadays we can see search queries reflect at least one result from Quora. Which means Search engines are looking after question & answers platforms for genuine answers. We can utilize quora, WikiAnswers, Yahoo answers etc in our SEO plans for 2019.
11. Competitor Analysis:- Research your competitor's presence and backlinks by using tools like Ahrefs, Semrush, Majestic and SEO Spyglass and try to be active there and build your backlinks with them.
12. Backlinks:- Backlinks always played a vital role in SEO Off-page techniques. But it should be done with proper research coz search engines always keep an eye on backlinks. Backlink considered when other websites link or refer your site.
13. Social sharing:- Social signals playing an important role till date and it will continue in 2019 SEO strategy. Therefore use social networks appearance by sharing quality content on regular basis.
14. Optimize for voice search:- As per the few studies of the past year, every fifth search query on smartphones or tablets is now happening through voice search. Due to the increasing use of digital assistants and smart home devices, users will use "Voice Search" more frequently in 2019.