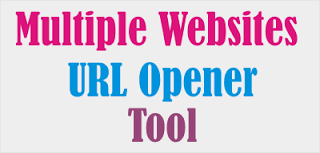 I have written many articles for Cotocus blog and today i want to share one of the best trick what i have learned and still using at my daily work. This trick saves lot of time & my energy too.
Many of us who is SEO beginner or a new internet user, face the problem to open websites or any portal & sites one by one. This process of doing work is very time taking, hectic and make you fed-up all the time, even i personally feel that if you are beginner of internet Or Search engine optimization, this slow strategy of doing work can take you behind the competition for sure.
And now! you might be thinking that how to get rid of this situation? And what is the solution? So i would say that now you don't need to worry because (URLopener.com) is an amazing trick and solution for this problem.
Now what is URL Opener?
---
URL opener is an online tool for SEO beginner or any internet user by which you can be open many URls or sites at a time. And that can you save more the time instead of doing one by one opening process. In other words, URL Opener is SEO tool, where you Paste multiple URLs into the box and press Open URLs and all multiple URLs will be open at one and this is the easiest and time saving technique.
What are the steps to use URL Opener?
---
URL opener is one of the best solution to open multiple website or portal at one time in just one click. This is easy and time saving process, there are five easy steps to use URL opener At Chrome browser given below,
Step.1:-Open your chrome browser and go to Google search Engine.
Step.2:- Copy this URL and paste in to the Google search engine box-> https://chrome.google.com/webstore/detail/bulk-url-opener/pknlccgephlicnahemjfcfnbifiglegd
Step.3:- The bulk URl Opener page will be appear in your screen. Then click on the (ADD TO CHROME OPTION).
Step.4:-After clicking, the URL Opener logo will be save at the top of the left side your chrome screen. Copy all the URls of the websites you want to open, then click on the URL Opener logo that is visible on left side of your chrome screen.
Step.5:- Once the page open, a URl list (one per line) box will be appear in page. Paste all the URLs you have copied in the box. And Click the Open All button. And all the URls will be open at one time.