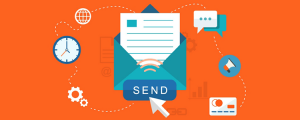 PHPList
PHPList is probably the best known and most popular open source email management software that's available today. While it's probably not going to win any awards from design snobs the email software works well. PHPList has a lot of nice features like click tracking, bounce management, list segmentation, PDF documents, RSS integration, HTML templates, and more. Most importantly PHPList has throttling and batch processing capabilities. This means you can control how many emails are sent out in say 1 hour, which is why most people use it in shared hosting environments. This is also why the majority of major web hosting companies recommend PHPList, since they don't want you going over their shared hosting email limits. If you don't feel like using your own server there is a phpList Hosted service where they handling sending out your email newsletters from their servers. I have not used phpList hosted but the pricing looks competitive and might be an ideal option if your email list is large and you don't want to switch to using another email program. There is a new community manager for PHPList and Tincan, the company behind phpList, seems quite committed to continually improving it. They recently updated their community portal and Anna, the phpList community manager, will be releasing tutorials videos this year along with better documentation.
Mailman
Here's a brief description of the features in Mailman. For a detailed descriptions of recent changes see the NEWS file for Mailman 2.1 and the NEWS file for Mailman 3.
Through-the-web list creation and removal (with automatic support depending on the MTA)
Multi-lingual support: list web pages and email notices can be in any of nearly two dozen supported language, configurable per-site, per-list, and per-user
"Real name" support for members
Support for personalized deliveries and VERP-like message delivery for foolproof bounce detection
Emergency moderation
MIME-based content filtering, with demime/stripmime like options
Regular expression based topic filtering
Through the web membership management
Through the web administrative requests pages
Moderated newsgroup support
Flexible moderation and privacy controls
Subscription invitations
Auto-response controls.
User controllable delivery options
Urgent: header support (bypasses digests to reach all users immediately).
Swift Mailer
Swift Mailer integrates into any web app written in PHP 5, offering a flexible and elegant object-oriented approach to sending emails with a multitude of features.
Send emails using SMTP, sendmail, postfix or a custom Transport implementation of your own
Support servers that require username & password and/or encryption
Protect from header injection attacks without stripping request data content
Send MIME compliant HTML/multipart emails
Use event-driven plugins to customize the library
Handle large attachments and inline/embedded images with low memory use
Cloud based software
Mail Chimp – With six million users, MailChimp is one of the most-frequently used email applications. The interface includes customized signup forms you can integrate into your website or your Facebook page, social sharing integration, dozens of customizable templates and a full-featured API to sync existing customer databases, shopping carts and more. MailChimp is ideal for beginners, since it's free for up to 2,000 subscribers—and you can send up to 12,000 emails per month. However, you are limited on a few features under the free plan. Paid plans are full-featured and very affordable, ranging from $10 to $450 per month, depending on the number of subscribers and the number of emails you will be sending each month. The $450 per month plan allows up to 85,000 subscribers and over a million emails.
Constant Contact – If you've heard of email marketing, you've probably heard of Constant Contact. It's one of the most comprehensive email marketing applications on the web, with a variety of ancillary tools, such as surveys and event marketing, that you can add-on with a fee. Constant Contact's built-in analytics are pretty awesome, as well as its impressive customizable template database and social sharing features. You can get started with Constant Contact for as little as $20 per month after a 60-day free trial.
AWeber – Aweber features autoresponder follow-up, customizable HTML email marketing templates, signup forms, RSS-to-email (create emails automatically from your latest blog posts), a full-featured API and much more. Not to mention a robust learning database featuring live webinars, video training, a complete knowledge base to help you navigate the features and a blog with insider tips on maximizing your email marketing campaigns. Pricing starts at just $19 per month for up to 500 subscribers once your 30-day free trial ends.
iContact – iContact has also made a name for itself in the email marketing scene, offering hundreds of email marketing templates to choose from, an easy drag-and-drop interface for users without advanced design skills, and integrated social sharing features so you can share your messages with Facebook, Twitter and LinkedIn. Deep contact history offers an in-depth view of your previous interactions with each subscriber, so you can manage your relationships more effectively. Pricing ranges from $14 for 500 subscribers to $79 for 10,000 subscribers per month.
Vertical Response – Vertical Response offers email marketing as one component of its host of marketing products, which also includes social media marketing, event marketing, online surveys and other applications. With tons of email templates to choose from, real-time analytics and easy sharing functions, Vertical Response is a comprehensive email platform. Vertical Response offers a volume-based price structure that is also feature-specific. Not only can you customize your plan based on your needs, you can try Vertical Response for free for up to 300 subscribers.
Campaign Monitor – Create your own templates with Campaign Monitor's easy-to-use template builder. Choose from a variety of layouts, select colors and then customize your text, images and even personalized messaging. Campaign Monitor's emails are automatically optimized for mobile too—the perfect solution for today's mobile-driven users. Signup is free, and you can send campaigns starting at just $9 per month.
FreshMail – FreshMail is totally free for up to 500 subscribers and 2,000 emails per month, and paid plans start at only $14 per month. This interface offers an impressive set of features for email marketers, including A/B tests, time-optimized messages, transactional emails and auto-responses. You can even create bar codes for retail discounts and promotions for your subscribers.
ExpressPigeon – ExpressPigeon is a powerful email marketing platform with an extremely clean and easy-to-use interface, offering scaling pricing for businesses depending on number of subscribers, with paid plans including an unlimited volume of sent messages. ExpressPigeon allows you to send up to 1,000 emails to up to 500 subscribers every month for free, with paid plans starting at $9.99 for 500 subscribers and unlimited messages.
Campayn – Campayn allows you to import the contacts from your Yahoo!Mail and Gmail address books to populate your subscriber list. It also offers premade templates, sign-up forms to add subscribers and autoresponder emails to ease the burden of following up. Up to 20,000 emails to 500 subscribers is free, so you can test out this platform's functionality before your subscriber list grows. Paid packages start at $10 per month for 1,000 subscribers.
Emma – Emma offers ready-made email templates and cool visuals, including response graphs and analytics data. Emma's analytics helps you look beyond the surface data to identify trends over time and dig deep into data for maximum results. Pricing starts at $45 per month for up to 2,500 subscribers and 15,000 emails and goes up to $199 per month for unlimited sending and all the bells and whistles, including a dedicated account manager. If your needs are even more specialized, you can call to request a quote for the enterprise level, which offers a custom plan.
Mad Mimi – Mad Mimi simplifies email marketing by focusing on just the emails. Everything is uncomplicated. You can view your most recent stats on the front page and see an image of your latest email to help you recall just how it looked. If you want a little more than the basics, social media features, drip emails and more can be turned on as add-ons. Pricing starts at $10 per month for 500 subscribers.
Mailjet – Mailjet offers full email automation and a host of templates. There are even website widgets to capture email addresses and sync them with your contact list and analytical tools to help you adjust your marketing efforts for the greatest impact. Price plans start at just $7.49 for 30,000 emails sent per month.
Benchmark Email – Benchmark Email's editor works just like a Word document, for totally streamlined and simplified design—even if you're not a skilled designer. You can customize signup forms for Facebook, Twitter or your website, and track important metrics like open rates and social shares. Benchmark Email is FREE for 14,000 emails for up to 2,000 subscribers, and plans with unlimited emails start at $11.95 per month for up to 600 subscribers.
GetResponse – GetResponse lets you "create stunning newsletters and landing pages in minutes," with capabilities including customized offers, mobile apps and more with the ability to segment subscribers for greater impact through targeting and perfect timing. GetResponse starts at just $15 per month for up to 1,000 subscribers and goes up to $799 per month for more than 100,000 subscribers. There are no contracts with GetResponse, so you can cancel anytime.
StreamSend – As its name suggests, StreamSend streamlines email marketing with easy opt-in/opt-out features, opt-in confirmations, list management including importing and exporting of contacts, list segemenation and more. And that's just on the administrative end. You can also take advantage of Email Analyzer, which tests your messages in 30 different email clients. If you've ever sent an email marketing campaign, you're probably painfully familiar with the hassle of different email clients rendering your code in various, and sometimes absurdly wacky, ways. Plans start at $19.90 per month for up to 2,000 emails, but you can this platform for free during a 30-day trial.
SharpSpring Mail+ – With SharpSpring Mail+, you'll not only know who opened your email, but what device they used, what links they clicked and whether they shared it across their social networks. Choose from dozens of email templates and make them your own with a simple, intuitive design interface. Choose from multiple pricing options, starting at $5.00 per month for up to 500 contacts.
Sendicate – Sendicate offers the best that simplicity has to offer. The platform is content-focused with a cool editor that lets you pick and choose what you want to add to your emails, compose your emails long before you are ready to send them out and then release them at the perfect time. Search filters make it easy to segment your subscribers for strategic marketing. Pricing for this gem starts at $9 per month for unlimited emails to 500 subscribers, but up to 1000 emails to 500 subscribers is always free.
ActiveCampaign – ActiveCampaign is a robust email marketing and CRM solution for businesses looking for a platform with a bit more customizability and freedom. Pricing starts at $49 per month for 1,000 contacts, and every plan includes unlimited sending, custom platform domain, white label branding, and more. A 14 day free trial is also available.
MailerLite – MailerLite is FREE for up to 1,000 subscribers, and there is no limit on the number of emails you can send per month. If you have more subscribers in mind, you can choose from several plans, which range from $10 per month for up to 5,000 subscribers to $100 per month for up to 50,000 subscribers. Regardless of the plan that you select, you can take advantage of MailerLite's many features, such as mobile-friendly emails, drag-and-drop editor, real-time reporting, comprehensive list management and more.
SendLoop – SendLoop is "the easy way to send email newsletters." It includes list management, campaign management, integration with awesome apps, such as WordPress, and even a full-featured API for developers. At only $9 per month for up to 500 subscribers, getting started is easy on the budget. You can even choose to pay by the email. Every 1,000 emails is $10.
Elite Email – Choose from a myriad of fully-customizable templates, share your emails on popular social platforms such as Facebook, Twitter, LinkedIn and Google+, take advantage of a fully-branded subscription center where your customers can se