Welcome to the official website of Cotocus, the leading company in corporate training in AJAX. With our exceptional expertise, we have established ourselves as pioneers in this field, providing top-notch training to numerous satisfied clients. Our commitment to delivering premium and unique content sets us apart from the competition, making us the preferred choice for AJAX corporate training.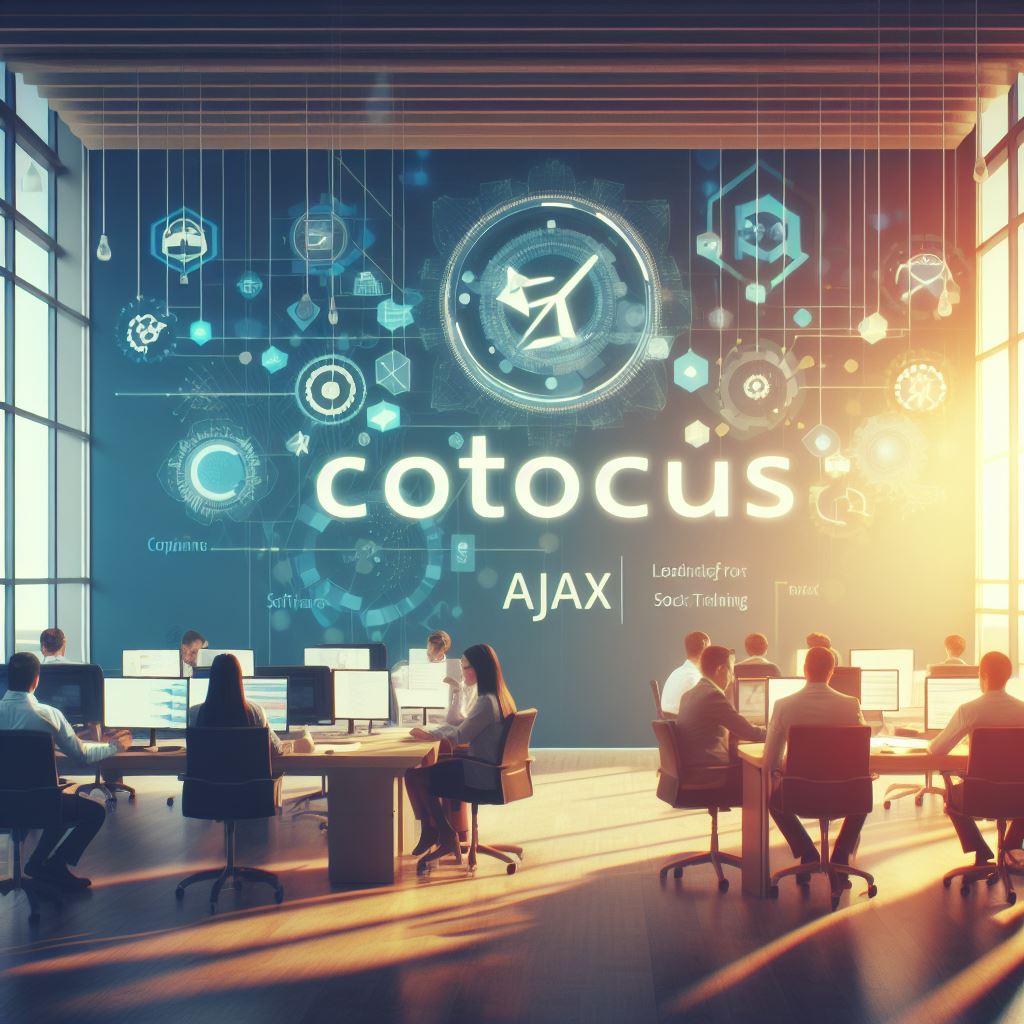 Why Cotocus is Leading Company for Ajax Corporate Training?
Cotocus is a pioneer in providing corporate training in Ajax. With years of experience and a team of highly skilled professionals, Cotocus has established itself as a leading company in the field of Ajax corporate training. Here are some reasons why Cotocus stands out from the rest:
Expert Trainers: Cotocus has a team of expert trainers who have extensive knowledge and experience in Ajax. They are well-versed with the latest industry trends and provide practical training to ensure that the participants gain hands-on experience.

Customized Training Programs:Cotocus understands that every organization has unique training needs. Therefore, they offer customized training programs tailored to meet the specific requirements of the clients. This ensures that the participants get the most relevant and effective training.

Comprehensive Curriculum: The training curriculum at Cotocus is designed to cover all the essential aspects of Ajax. From basic concepts to advanced techniques, the curriculum is comprehensive and ensures that the participants have a solid understanding of Ajax.

Hands-on Projects: Cotocus believes in learning by doing. Therefore, they provide hands-on projects to the participants, allowing them to apply their knowledge and skills in real-world scenarios. This practical approach helps in better understanding and retention of the concepts.

Continuous Support: Cotocus provides continuous support to the participants even after the completion of the training program. They offer guidance and assistance whenever needed, ensuring that the participants have a smooth learning experience.


What is Approach followed by Cotocus for corporate training for Ajax
Cotocus follows a systematic approach to corporate training for Ajax. Here is an overview of their approach:
Needs Assessment: Cotocus starts by conducting a thorough needs assessment to identify the specific training requirements of the organization. This helps in designing a customized training program that addresses the specific needs of the participants.

Curriculum Design: Once the needs assessment is complete, Cotocus designs a curriculum that covers all the essential topics in Ajax. The curriculum is carefully crafted to ensure that it is comprehensive and relevant to the participants' roles and responsibilities.

Training Delivery: Cotocus employs various training methods to deliver the training program. These include classroom sessions, online modules, workshops, and hands-on exercises. The training is delivered by expert trainers who have practical experience in Ajax.

Assessment and Feedback: Throughout the training program, participants are assessed to gauge their understanding and progress. Cotocus also encourages feedback from participants to continuously improve the training program.

Post-Training Support: Cotocus provides post-training support to participants to ensure that they can apply their learning effectively in their work. This includes access to additional resources, mentorship programs, and ongoing support from the trainers.


Contact Cotocus Team for Corporate Training in Ajax
To get in touch with the Cotocus team for any corporate training requirement in AI, you can reach out to them through the following channels:
Contacting Cotocus is the first step towards unlocking the full potential of your organization through AI corporate training. Don't miss out on this opportunity to enhance your team's skills and drive success in today's dynamic business environment.