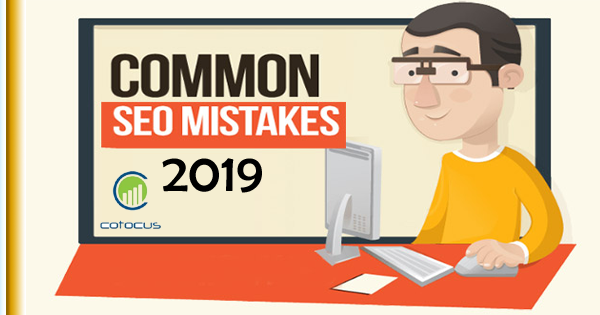 In this blog you can read 5 Common Mistakes related to SEO.
Don't Fix Broken Pages with Back-links – I think one of the major mistake in SEO is Broken pages which are really one major issue for websites, especially if they have backlinks pointing to them through those web pages. Ignoring broken pages can be a big mistake.
Targeting the WRONG Keywords – Nowadays competition is very high, so be careful when you choose keywords. Especially if you don't have the website authority to target keywords with mid to high level competition.
Always Keep Your Content Unique – This is a simple rule to follow is that always keep your content unique. The duplicated content, or multiple iterations of content with the same keyword is frowned upon. Google simply doesn't want to see this practice occurring.
Always Make your website super fast – Nowadays era of internet, people don't like to wait. If your website doesn't open up in 5 seconds it will probably drive your traffic away. You can use Web Page Test or Speed Test to determine your website speed.
Always keep Up-to-date websites – This is minor mistake for all the content creators out there. No matter how old your content is there, always keep them updated with time to time. Add YouTube videos and other relevant links to your page for more content. Not only it helps to improve your rank but also it will drive more traffic in your way making your content more relevant.