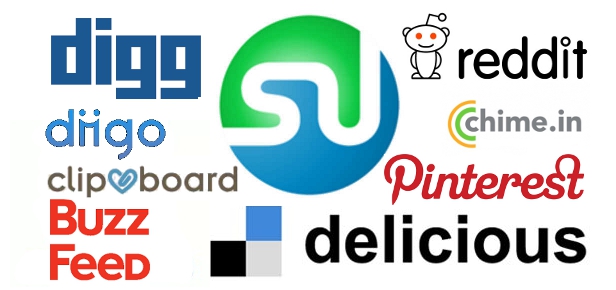 Social Bookmarking Websites?
social bookmark services are organized by users applying "tags" or keywords to content on a Web site.
This means that other users can view bookmarks that are associated with a chosen tag, and see information about the number of users who have bookmarked them.
Social bookmarking is also interchangeably sometimes referred to as folksonomy, collaborative tagging, social classification, social indexing, and social tagging. "Folksonomy" is a combination of the words folk and taxonomy, hence a folksonomy is a taxonomy generated by a person or group of people.
These bookmarks are usually public, and can be viewed by other members of the site where they are stored.
How can Social Bookmarking help with my web site promotion?
Search engines will often list results from bookmarking sites. So if your site is bookmarked, this is an extra opportunity to show up in search results.
Increase traffic by adding social bookmarking buttons to your website. Adding social bookmark links to your blog or web site makes it easy for readers to save and share your content, and therefore for others to find it.
What Does Social Bookmarking Do For Businesses?
No social bookmarking definition can be complete without an analysis of what it can do for businesses. Obviously, social bookmarking has some excellent marketing qualities, or nobody would do it. Some of the ways that social bookmarking helps businesses include:
Building relevant incoming links
Draws visitors
Draws new clients or customers
Helps people find the business
Helps businesses find other businesses
Draws a lot of traffic
The business began to grow, and social bookmarking became known for building relevant links, bringing in traffic and new customers, and the other benefits of social bookmarking that businesses can take advantage of.
List of Dofollow Social Bookmarking Sites
| | |
| --- | --- |
| SITE NAME | PAGE RANK |
| http://www.pinterest.com/ | 9 |
| http://www.reddit.com/ | 8 |
| https://delicious.com/ | 8 |
| http://www.stumbleupon.com/ | 8 |
Top 15 Most Popular Social Bookmarking Websites | September 2016
Here are the top 15 Most Popular Social Bookmarking Sites as derived from our eBizMBA Rank which is a continually updated average of each website's Alexa Global Traffic Rank, and U.S. Traffic Rank from both Compete and Quantcast."*#*" Denotes an estimate for sites with limited data.
1 | Facebook
3 – eBizMBA Rank | 900,000,000 – Estimated Unique Monthly Visitors | 3 – Compete Rank | 3 – Quantcast Rank | 2 – Alexa Rank
2 | Twitter
12 – eBizMBA Rank | 310,000,000 – Estimated Unique Monthly Visitors | 19 – Compete Rank | 8 – Quantcast Rank | 8 – Alexa Rank
3 | Pinterest
23 – eBizMBA Rank | 250,000,000 – Estimated Unique Monthly Visitors | 29 – Compete Rank | 13 – Quantcast Rank | 26 – Alexa Rank
4 | Google Plus+
26 – eBizMBA Rank | 120,000,000 – Estimated Unique Monthly Visitors | *24* – Compete Rank | *28* – Quantcast Rank | NA – Alexa Rank
4 | Google Plus+
26 – eBizMBA Rank | 120,000,000 – Estimated Unique Monthly Visitors | *24* – Compete Rank | *28* – Quantcast Rank | NA – Alexa Rank
5 | Tumblr
33 – eBizMBA Rank | 110,000,000 – Estimated Unique Monthly Visitors | 53 – Compete Rank | *13 *- Quantcast Rank | 34 – Alexa Rank |
6 | Reddit
105 – eBizMBA Rank | 32,000,000 – Estimated Unique Monthly Visitors | 227 – Compete Rank | 27 – Quantcast Rank | 60 – Alexa Rank
7 Stumble-on
300- eBizMBA Rank | 28,000,000 – Estimated Unique Monthly Visitors | 699 – Compete Rank | *50* – Quantcast Rank | 152 – Alexa Rank
8 | Digg
1,278 – eBizMBA Rank | 6,000,000 – Estimated Unique Monthly Visitors | *950* – Compete Rank | *2,393 *- Quantcast Rank | 492 – Alexa Rank
9 | MetaFilter
2,066 – eBizMBA Rank | 4,500,000 – Estimated Unique Monthly Visitors | 2,139 – Compete Rank | *458* – Quantcast Rank | 3,600 – Alexa Rank
10 | Newsvine
2,082 – eBizMBA Rank | 4,000,000 – Estimated Unique Monthly Visitors | 2,071 – Compete Rank | *240* – Quantcast Rank | 3,934 – Alexa Rank